This is a modern twist on the classic French dessert, with a salted caramel sauce and popcorn infusion.
Popcorn Infused Crème Brulee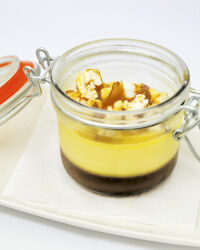 Recipe Information
Ingredients
For the salted caramel
100g Butter
100g Dark Brown Soft Sugar
1 Can Condensed Milk
Pinch of Sea Salt, to taste
For the crème brûlée
400ml Double Cream
5 Egg Yolks
60g Caster Sugar
250g packet Buttered Popcorn, plus extra for serving
Method
For the salted caramel
Melt the butter and sugar into a non-stick saucepan over a low heat, stirring all the time until the sugar has dissolved.
Add the condensed milk and bring to a rapid boil for about a minute, stirring all the time for a thick golden caramel.
Take off the heat, add the pinch of salt and whisk until smooth and pour into a bowl and allow to cool completely.
Then place about two tablespoons in heat proof serving glasses or Kilner jars. Place in the fridge to leave to cool.
For the crème brûlée
In a medium pan, bring the cream and sugar to the boil. Meanwhile whisk the egg yolks. Then pour the hot cream mix over the eggs to make a custard.
Place 200g of the popcorn in a food processor. Then add to the brûlée mixture. Leave to infuse for one hour.
Pre-heat the oven to 120°C/Gas Mark ½
Then stain the brûlée through a sieve to remove the popcorn and you are left with popcorn infused brûlée.
Pour over your caramel.
Half fill a deep roasting tray with water and place in the oven. Then add in the brûlées.
Cook for about 30-45 minutes until the brûlée is just set. There should still be a slight wobble in the middle. Remove from the oven and water bath.
Allow to cool, then place in the fridge for a few hours. When ready to serve top with the rest of the popcorn.