This summery drink is the perfect addition to a warm summers eve.
Pomegranate Punch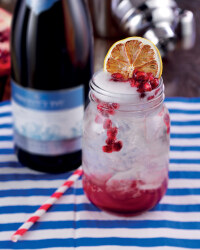 Recipe Information
Ingredients
25ml Vodka
20ml Lemon Juice
3 tsp fresh Pomegranate Seeds
Sparkling Wine
Method
Add the vodka, lemon juice, sugar and pomegranate seeds to a cocktail shaker.
Stir until the sugar has dissolved and then shake hard ice over.
Pour into an ice filled tall glass.
Top with sparkling wine.
Decoration/To Serve:
Add a few pomegranate seeds and a piece of lemon zest for garnish.