Start your day the perfect way with this tasty avocado, feta and poached egg on toast.
Poached Eggs on Toast with Avocado and Feta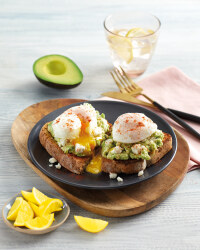 Recipe Information
Ingredients
2 slices Bloomer Bread
2 ripe Avocados
80g Feta Cheese
2 large Eggs
½ tsp Paprika
10ml Lemon Juice Butter
Method
Cut the avocados in half lengthways, remove the stones and scoop out the flesh with a spoon.
Put into a bowl, add the lemon juice and lightly mash with a fork.
Toast the slices of bread and spread with a little butter.
Poach the eggs.
Divide the avocado between the toast slices and thickly spread.
Break up the feta cheese and sprinkle over the avocado.
Top with a poached egg, sprinkle over the paprika and serve.