Cake drizzled with coconut rum, topped with pineapple, cream and a little lime zest. Yum!
Pina Colada Pudding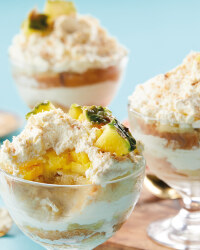 Recipe Information
Ingredients
2 x Madeira Loaf Cakes
300ml Double Cream
8tsp Pineapple Rum or normal rum (optional)
1 Pineapple, chopped
Zest of 1 Lime
1tsp Desiccated Coconut
Method
Slice the Madeira cake into pieces approximately 2cm thick.
Drizzle the pineapple rum or rum (if using) over the cake.
Divide the cake into 8 pieces. Place a piece of cake in the base of each serving glass.
Whip the cream until soft peaks form.
Add a layer of pineapple to each glass, followed by a layer of whipped cream.
Repeat with the remaining cake, pineapple, and cream.
Top each pudding with a sprinkling of desiccated coconut and lime zest.
Keep refrigerated until serving.