Fruity, zesty and delightfully soft, this cake is a delicious baking idea for the weekend.
Pear, Lemon and Ginger Cake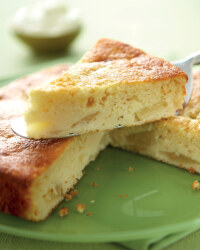 Recipe Information
Ingredients
3 conference pears
50g unsalted butter (plus a little extra for greasing)
50ml fresh lemon juice (approx. two lemons worth)
Grated rind from one lemon
2g ground ginger
85g self raising flour
75g caster sugar
2 large eggs, beaten
Pinch of salt
1 x 20cm loose base or spring form cake tin
Method
Pre-heat the oven to 180°C/350°F/Gas Mark 4.
Line the base of the cake tin with some non-stick paper and brush the sides with a little extra butter.
Peel and core the pears and cut into medium size chunks, put in a bowl with the lemon juice and rind.
Melt the butter in a bowl.
Mix the flour, sugar, ginger and salt in a bowl and whisk.
Beat the eggs with the butter and then beat into the flour mix, then fold in the pears and juice.
Pour into the prepared tin and bake for 30 minutes or until a skewer comes out clean.
Cooking times may vary dependent on appliance.