This classic dessert is a delicious sweet treat, perfect topped with tasty fresh fruit.
Pavlova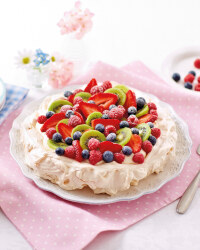 Recipe Information
Ingredients
4 Healey's Farm Medium Free Range Egg Whites – or 3 Large Free Range Egg Whites
180g The Pantry Caster Sugar
1 tsp The Pantry Cornflour
1tsp Vanilla Essence
300ml Double Cream
Strawberries, raspberries, blueberries and kiwi to serve
Method
Preheat the oven to 150°C/300°F /Gas Mark 2.
Line a baking sheet with some non-stick baking parchment.
Place the egg whites in a large clean bowl, whisk them using an electric whisk until they form stiff peaks.
You should be able to turn the bowl upside down without the meringue moving.
Add the cornflour to the caster sugar. Add the caster sugar mix a teaspoon at a time whilst whisking - until you have used all the sugar and the meringue is thick and glossy.
Whisk in the vanilla essence.
Spoon half the mixture onto the lined baking sheet, and spread into a circle about 18cm in diameter, to make the base.
Using a piping bag with a thick nozzle pipe, pipe around the edge of the base to make a nest, or use a spoon to make the same shape.
Bake in the oven for about 80 minutes, until the meringue is crisp, allow to cool.
Whip the cream and fill the case, top with a mixture of the fruit and berries.