For a simple dessert try these citrus crepes with eggs, orange, lemon and sugar.
One Cup Citrus Crepes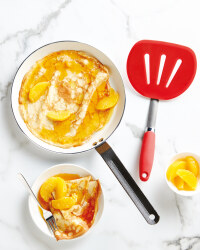 Recipe Information
Ingredients
Pancake Ingredients:
1 cup The Pantry Plain Flour
2 Eggs
2 tbsp The Pantry Caster Sugar
1 ½ cups Milk
Sauce Ingredients:
1 Orange 2 Lemons (juiced)
1 tbsp Butter
2 tbsp Caster Sugar
Method
Place the sugar and eggs in a bowl and whisk until combined.
Add the flour and then gradually add the milk until you have made a smooth batter.
Heat a frying pan and grease with a little butter, pour in the mix, tilting the pan to create a thin pancake.
Cook for 1-2 minutes, flip then cook for a further 2 minutes.
Repeat with the remaining batter.
Peel the orange and then slice.
In a pan, melt the butter and sugar together until caramelised and bubbling, then add the orange slices.
When the oranges have started to caramelise, add the lemon juice and reduce until a syrup has formed.
Serve the pancakes with the oranges and a drizzle of sauce.