Omelette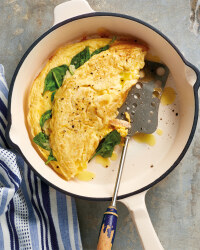 Recipe Information
Method
Crack the eggs into a bowl and whisk well.
Season with a little salt and pepper.
Heat a little oil in a small non-stick frying pan.
Pour in the egg mixture, tilting the pan to spread out the mixture over the bottom.
As the omelette cooks, with a spatula, push the uncooked egg under in a swirling movement.
Cook until the egg is just set, then fold over and serve.
Omelette Fillings:
Add 30g of any of the following to the omelette just as it begins to cook, then continue to cook as above. Or, add a mixture of a few fillings:
chopped cooked ham, tinned and drained sweetcorn, cooked sliced mushrooms, chopped spring onions, grated cheddar cheese, chopped tomato, chopped avocado, chopped spinach leaves or smoked salmon slices.