Total cost:
Less than €10
Healthy nut roast for a festive meal.
Nut & Linseed Roast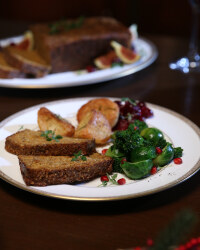 Recipe Information
Ingredients
120g Linseed with Goji Berries, Sunflower & Pumpkin Seeds
100g Hazelnuts
100g Salted Peanuts
300g Carrots, chopped
1 Red Onion, chopped
150g Chestnut Mushrooms, chopped
2 slices Brown Bread
2 Large Eggs
100g Medium Cheddar Cheese, grated
60ml Red Wine
2 tsp Paprika
2 tsp Dried Thyme
Black Pepper
2lb 20 x 10cm Loaf Tin
Greaseproof Paper
Method
Pre-heat the oven to 190°C/375°F/Gas Mark 5.
Line the bottom and sides of the loaf tin with some greaseproof paper.
Break up the bread into small pieces and add to a food processor along with the nuts, carrots and onion.
Pulse until all finely chopped – do this in 2 lots if it's too much for the machine.
In a large bowl, mix the eggs with the cheese, then add the linseed and the chopped mushrooms, the seasoning and herbs and whisk in the red wine.
Add the nut mixture and mix well.
Pour all the mixture into the tin and bake in the oven for approx. 60 minutes until a skewer poked into the centre comes out clean and the roast feels solid.