This cheesecake is a classic for a reason. With a buttery biscuit base and a heavenly cream cheese topping. Perfection.
New York Style Cheesecake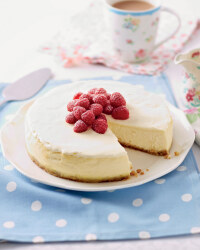 Recipe Information
Ingredients
Base
85g Pure Irish Creamery Butter
140g Belmont Digestive Biscuits
1 tbsp The Pantry Caster Sugar Filling
Filling
4 200g The Cheese Emporium Soft Cheese
250g The Pantry Caster Sugar
3 tbsp The Pantry Plain Flour
Zest of 1 Lemon finely grated
2½ tsp Lemon Juice
3 Healy's Farm Large Irish Fresh Eggs plus 1 Yolk
200ml Double Cream Topping
225ml Double Cream
1 tbsp The Pantry Caster Sugar
3 tsp Lemon Juice
Method
Oven temperature Fan 160°C/180°C/Gas Mark 4.
Increase to Fan 200°C/220°C/Gas Mark 9.
Decrease to Fan 90°C/ 110°C/Gas Mark ¼.
Line a 23cm (9") loose bottomed baking tin with baking parchment.
Melt the butter in a small pan over a low heat until melted.
Put the biscuits into a plastic bag and roll with a rolling pin until crumbs are formed.
Stir the crumbs and sugar into the butter and mix well.
Press this mixture into the base of the baking tin and bake in a pre-heated oven 160°C/180°C/Gas Mark 4 for 10 minutes.Cool tin on a wire rack.
Increase oven temperature to Fan 200°C/220°C/Gas Mark 9 and prepare the filling.
Place the soft cheese in a mixing bowl and beat for approx.
2 minutes until creamy.
Gradually add the sugar and flour.
Whisk in the lemon zest and juice, then add the eggs and yolk, one at a time.
Blend in the double cream until a smooth batter is formed
Place the baking tin on a baking sheet and pour in the filling.
Bake in the oven for 10 minutes then reduce the temperature to 90°C/110°C/Gas Mark ¼ and continue baking for a further 25 minutes.
Switch off the oven and let the cheesecake cool in the oven for 2 hours.
To make the topping stir the sugar into the cream then stir in the lemon juice (adding the lemon will cause the cream to thicken.) Spread this mixture over the top of the cheesecake.
Cover with cling film or foil and chill for at least 8 hours before serving.
To serve, remove from the tin and peel away the parchment. Slide onto a serving plate. Delicious served with fresh raspberries.