A light, refreshing and fruity treat. Classic.
New York Cheesecake with Blueberry Sauce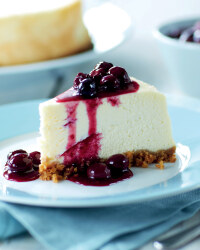 Recipe Information
Ingredients
150g Digestive Biscuits
85g Unsalted Butter
900g Soft Cheese
200g Caster Sugar
200ml Soured Cream
3 tsp Plain Flour
3 Medium eggs plus
1 Egg Yolk Sauce
250g Blueberries
2 tbsp Caster Sugar
1 tbsp Water
Method
Pre-heat the oven to 180°C/350°F/Gas Mark 4.
Grease and line the base of a 23cm (9") spring form or loose bottomed cake tin.
Place the biscuits in a plastic bag and crush with a rolling pin until fine crumbs are formed.
Melt the butter and stir into the crumbs and mix well.
Tip into the cake tin then use the back of a spoon to flatten over the base.
Bake for 10 minutes.
Allow the tin to cool.
Reduce oven to 160°C/325­°F/Gas Mark 3.
In a large bowl beat together the soft cheese and the sugar.
Add the soured cream and flour and mix well.
Beat in the eggs, one at a time.
Pour the mixture into the cake tin then bake for 45 minutes (the cheesecake should be just set with a slight wobble).
Turn off the oven, leave the oven door slightly ajar and allow to cool.
Refrigerate for several hours or overnight.
To prepare the sauce place the blueberries, caster sugar and water in a saucepan and cook over a medium heat for 5 minutes.
Allow to cool and serve with the cheesecake.