A perfectly balanced and refreshing take on a classic.
Mojito Style Thirst Quencher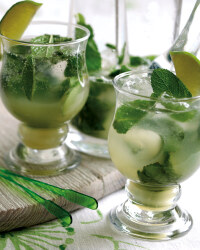 Recipe Information
Ingredients
100mls White Rum
4 large sprigs of fresh mint
5 Limes, 4 for the drink, 1 for garnishing
4 tbsp caster sugar, optional
16 ice cubes
Sparkling water
Method
Evenly distribute the rum, mint, juice of 4 limes and sugar between 4 tall tumblers.
With a wooden spoon break down the mint and sugar using the handle.
Then add 4 lumps of ice to the 4 tumblers. Top up with tonic or sparkling water.
Serve with a lime wedge.
Top Tips
This recipe can also be made with lemonade, just leave out the sugar.
Crushing the mint really brings out the flavour.
Remove all the rum for a non-alcoholic version.
Tonic water is a perfect alternative to sparkling spring water in this drink.