Enjoy this healthy roast chicken recipe taken from RTE's Operation Transformation
Mixed Herb Roast Chicken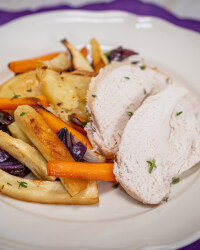 Recipe Information
Ingredients
1.5kg whole chicken
1 lemon
1 bunch fresh rosemary, thyme and sage sprigs
2 garlic bulbs
1 ½ tsp butter (at room temperature – 7.5g)
2 parsnips
3 carrots
1 small red onion
1 tbsp rapeseed oil (15g)
250g potatoes
sea salt and freshly ground black pepper
Method
Remove the chicken from the fridge 1 hour before you plan to cook it and discard any packaging. Dry well inside and out with kitchen paper, then put in a roasting tin and stuff the cavity with the lemon and garlic that you have cut in half with the herbs, reserving a little thyme to garnish.
Preheat the oven to 190C / 375F / gas mark 5. Mix with the butter in a small bowl until evenly combined and then season with a little salt, if using and plenty of freshly ground black pepper. Smear all over the skin.
Place the chicken in the oven and roast for 1 hour and 20 minutes or until the chicken is cooked through. To check, pierce the thigh with a skewer – the juices should run clear and be piping hot and there should be no pink meat.
Peel the parsnips and carrots and cut both into large batons. Cut the red onion in half and cut into slices. Peel the potatoes and cut into wedges. Place all the vegetables in a bowl and toss with the oil, then season to taste.
Once the chicken has been roasting for 1 hour, tip in the vegetable mixture and continue for roast for another 20 minutes until the chicken is cooked through and tender – test with the tip of a sharp knife.
Remove the chicken from the oven and carefully transfer to a plate, then cover loosely with tin foil and a clean tea towel and leave to rest for 20 minutes. Give the vegetables a good shake and return to the oven to finish cooking.
Carve the rested cooked chicken into slices and arrange 200g on each plate with the roasted vegetables and garnish with the thyme leaves to serve.