Easy to prepare and impressive to serve.
Mini Vegetable Tarts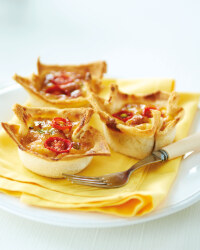 Recipe Information
Ingredients
1 Red Pepper
1 Yellow Pepper
1 Green Pepper
2 Sticks Celery
60ml Extra Virgin Olive Oil
12 Slices White Medium Sliced Bread
125ml Crème Fraîche
125g British Lighter Mature Grated Cheese
12 Plum Cherry Tomatoes cut in half
3 Medium Eggs
Salt
Black Pepper
12 Hole Muffin Tin
Method
Preheat the oven to 200°C/400°F/Gas Mark 6.
Chop the peppers and celery finely. In a large frying pan sauté the vegetables in half the olive oil for 5 mins, until softened.
In a bowl add the eggs, whisk well, and add the grated cheese, crème fraiche and the cooked vegetables.
Season with salt and pepper. Cut the crusts off the bread and with a rolling pin roll out the bread slices until a little thinner and larger.
With a pastry brush, oil the muffin tray with the remaining olive oil.
Push the bread squares gently into the muffin tray.
Divide the vegetable mixture between the cases; top each one with two halves of tomato. Bake for about 20 minutes, until crisp and golden.
Serve warm or cold.