Total cost:
Less than €10
Puff pastry pies filled with creamy mushroom and herb filling
Chef's Tip
The mushroom filling can be made a few days ahead and stored in the refrigerator
Mini Mushroom Wellingtons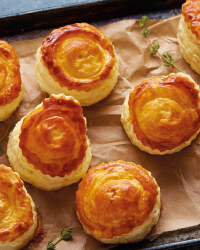 Recipe Information
Ingredients
2 x 375g packs Ready Rolled Puff Pastry
125g Chestnut Mushrooms, finely chopped
70g Ricotta Cheese
1 Clove of Garlic
1 Small Onion, finely diced
5g Fresh Thyme, finely chopped
10ml Soy Sauce
20g Salted Butter
10ml Olive Oil
1 Slice of Brown Bread
1 Medium Egg, beaten
Sea Salt and Black Pepper
6cm Round Pastry Cutter
8cm Round Pastry Cutter
Baking Trays
Method
Pre-heat the oven to 180°C/350°F/Gas Mark 4.
Meanwhile, sauté the butter, onions and olive oil in a large frying pan, until softened but not brown.
Peel and mince the garlic and add to the onions.
Add the mushrooms to the pan and cook for a couple of minutes.
Add the ricotta cheese, thyme and the soy sauce.
Make breadcrumbs and add to the pan.
Add seasoning and mix well, then allow to cool.
Unroll the pastry sheets and cut 16 holes with each cutter.
Put the smaller pastry discs onto slightly oiled baking sheets.
Divide the mushroom mix between them, leaving a little edge of pastry without filling.
Put a little whisked egg on this pastry edge.
Top them with the larger pastry discs and gently press the pastry around the filling.
Make a slash on the top of each pie with a sharp knife.
Brush the tops with some of the egg and bake in the oven for 15 minutes, until they rise and look golden.