Mince Pie Martini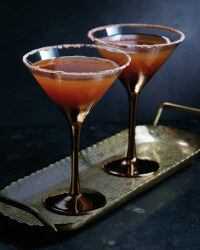 Recipe Information
Ingredients
For the syrup
100ml water
100g Caster Sugar
50g Mincemeat
For the cocktail
2 tbsp Caster Sugar
2 tsp Mixed Spice
4 tsp Mincemeat
100ml Gin
100ml Cream Sherry
20ml Dark Rum
Method
Start with your syrup by boiling the water, caster sugar and mincemeat in a pan, then let it cool and strain it.
Mix the caster sugar and mixed spice, dampen the rims of four glasses and dip them into this sugary mixture.
Grab a cocktail shaker or jug, put in the mincement than pound it with the handle of a wooden spoon.
Add the gin, sherry, dark rum, ice and 80ml of the cooled syrup. Shake or stir well then strain into the 4 glasses – and enjoy!