This is the perfect light spritzer to refresh and unwind with.
Melon Spritzer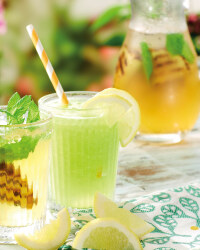 Recipe Information
Ingredients
1 Ripe Galia Melon Juice
½ Lemon
½ bottle Castellore Italia Pinot Grigio
Gianni's Ice Cubes
Method
Cut the melon into chunks and place in a blender with the lemon juice.
Whizz to the smoothest you can get and set aside.
To serve, pour the melon mixture into glasses and top up with the wine.
Thread a few melon balls onto skewers if you like and place one on the top of each glass, alternatively decorate with lemon slices.