Next time you cook pork chops try this modern twist. Pork loins smothered in tasty marmalade.
Marmalade Pork Chops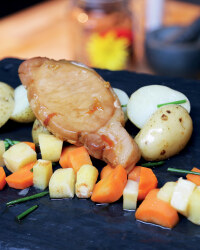 Recipe Information
Ingredients
2 Premium Boneless Pork Loin Chops
2 tbsp Orange Marmalade
70ml Soy Sauce
1 Clove of Garlic, peeled and finely chopped
2 Carrots, peeled and chopped
1 Parsnip, peeled and chopped
250g Baby Potatoes, halved
Method
Pre-heat oven to 200°C/400°F/Gas Mark 6.
In an ovenproof dish add marmalade, soy sauce and garlic.
Mix with a fork, breaking down the marmalade.
Add raw pork chops to this and spoon the marinade over the chops, so that they are well covered.
You can leave overnight in the fridge for added flavour.
Cover with foil and place in the oven for 15-20 minutes until cooked through.
Steam the vegetables and potatoes.
Remove the pork chops from the oven and serve with the vegetables.