Beautiful, chewy Red Velvet Brownies. They're the perfect Christmas treat.
Marbled Red Velvet Christmas Brownies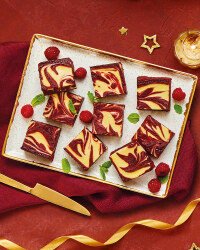 Recipe Information
Ingredients
125g Salted Butter
2 x Medium Free Range Eggs
200g Granulated Sugar
30g Cocoa Powder
20ml Red Food Colouring
5ml White Wine Vinegar
100g Plain Flour
Topping
250g Cream Cheese
50g Caster Sugar
1 x Medium Free Range Egg
1 tsp Vanilla Extract
1 x 28cm x 18cm brownie pan
Method
Pre-heat the oven to 145°C/Gas Mark 1.
Line the base of the cake tin with some non-stick baking parchment and rub the sides with a little sunflower oil.
Melt the butter in a small saucepan and then add the granulated sugar and stir to combine.
Transfer the butter mixture to a mixing bowl and whisk in 2 of the eggs.
Add the cocoa powder, food colouring and vinegar, then whisk well.
Sieve the flour, gently fold into the mix then set aside whilst you prepare the topping.
Combine the cream cheese, caster sugar, egg and vanilla in a mixing bowl and whisk until smooth.
Pour ⅔ of the brownie mix into the prepared cake tin.
Spoon dots of the cream cheese topping over the top of the brownie, then spoon dots of the remaining brownie mix over the top of the cream cheese topping.
Use a toothpick or skewer to gently marble the brownie mix and cream cheese topping.
Bake in the oven for 25-30 minutes, allow to cool completely, then cut into 9 squares.