A super-healthy, fruity and astonishingly refreshing smoothie. Perfect for a warm day.
Mango, Pineapple and Kale Smoothie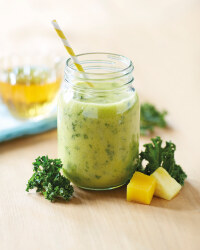 Recipe Information
Ingredients
200g Mango Chunks
200g Pineapple Chunks
30g Curly Kale
200ml Rio D'Oro Apple juice
Method
Chop the kale finely.
Put all the ingredients into a food processor and pulse till well blended and serve.