Classic trifle made with mandarin pandoro and spiced cream.
Mandarin Pandoro Trifle with Spiced Cream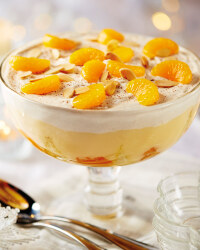 Recipe Information
Ingredients
Specially Selected Pandoro
50g Marmalade
300ml Double Cream
1 tbsp Icing Sugar
1 tsp Ground Ginger
1 tsp Ground Cinnamon
1 can Mandarin Segments (reserve 10 for decoration)
900g Custard
2 tbsp Brandy
To Decorate:
20g Flaked Almonds (toasted)
10 Clementine Segments
Sprinkle of Cinnamon
Method
To begin slice 3 slices of the pandoro (about 1" thick) from the bottom end of the loaf (discard the bottom slice as you do not need it for the recipe)
Spread the marmalade over the pandoro and place one disk on the bottom of a trifle bowl.
Next cut the other slice into diamond shapes and decorate around the edge of the trifle dish with these, then pour the brandy over the top.
Then place the mandarin slices over the pandoro and pour some of the juice from the can over the top.
The custard can then be poured over the top of the mandarins.
Next whisk the double cream with the cinnamon, ginger and icing sugar and then spread over the custard in the trifle dish and smooth the top.
Finally decorate the trifle with reserved mandarin slices, flaked almonds and a sprinkling of ground cinnamon.