This tasty lemon drink needs hardly any ingredients, but we promise it'll be delicious.
Lemon Pie Cocktail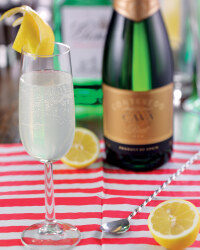 Recipe Information
Ingredients
10ml Gin
10ml Limoncello
1 tsp Sugar>
1 Vanilla Pod Topped with Cava
1 Lemon
Method
Flavour the sugar by placing a vanilla pod into sugar pot for a couple of weeks
Add the gin, Limoncello and sugar to the glass and stir to dissolve.
Top with Cava and garnish with a lemon twist.