Fruity take on a luxuriously smooth classic French dessert.
Lemon Crème Brûlée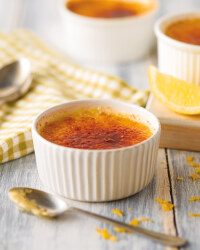 Recipe Information
Ingredients
500ml Double Cream
130g Caster Sugar
Juice of 1 Lemon
Grated Rind of 2 Lemons
4 Large Egg Yolks
½ tsp Vanilla Essence
50g Granulated Sugar
6 Ramekin Dishes
Method
Pre-heat the oven to 180°C/350°F/Gas Mark 4.
Put the caster sugar, grated rind and juice of lemons, vanilla essence and egg yolks together in a bowl and whisk well.
Put the cream in a saucepan and gently bring to the boil.
Pour over the lemon mix and whisk well.
Pour this mixture into the ramekins and place on to a roasting dish.
Pour boiling water around them so it comes half way up the sides.
Bake for 35-40 minutes, until just set.
Remove from the oven and allow to cool.
Prior to serving – sprinkle the granulated sugar over the top and, using a blowtorch (or place ramekins under a hot grill), caramelise the sugar until the sugar bubbles and browns, then serve immediately.