This deliciously fruity tart is sure to impress at dinner parties.
Lemon and Lime Tart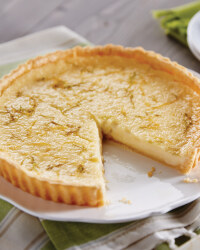 Recipe Information
Ingredients
375g roll of Shortcrust Pastry
2 Limes
1 large Lemon
165g Caster Sugar
200ml Double Cream
2 large Eggs
Crème Fraîche to serve
20cm loose base fluted flan tin
Method
Pre-heat the oven to 180°C/350°F/Gas Mark 4.
Roll out the pastry then line the tin and make a few pricks in the bottom with a fork.
Use some crumbled tin foil to line the tin and support the pastry on the sides, then bake in the oven for 7 minutes.
Carefully remove the tin foil and bake for another 3 minutes to dry out the base.
Grate the rind from 1 lime and half the lemon.
Juice both the limes and lemon.
Whisk the eggs, caster sugar and cream together, then add the juices and whisk well.
Pour the cream mix into the case and bake for 15 minutes.
Gently remove from the oven and sprinkle over the grated rind.
Return to the oven and bake for another 5/6 minutes - the filling should still be a little wobbly in the middle.
Allow to cool and serve with a dollop of crème fraîche.
Great served with fresh blueberries and raspberries.