Enjoy this healthy vegan dinner recipe taken from RTE's Operation Transformation
Leek & Bean Traybake with Cherry Tomatoes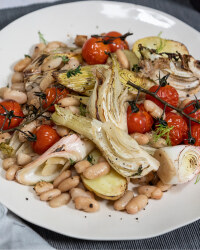 Recipe Information
Ingredients
2 leeks
2 fennel bulbs
250g baby new potatoes
200g cherry tomatoes (on the vine)
2 garlic cloves
2 fresh thyme sprigs
400g tin cannellini beans (240g drained)
1 tbsp balsamic vinegar (15g)
250ml vegetable stock
1 tbsp rapeseed oil (15g)
sea salt and freshly ground black pepper
Method
Preheat the oven to 200C / 400F / gas mark 6. Trim and slice the leeks. Trim the fennel bulbs and cut into slices. Then finely chop the fennel fronds and reserve for garnish. Cut the baby potatoes in half. Snip the cherry tomato vines into sections – each one with 3-4 cherry tomatoes. Peel and finely grate the garlic. Strip the thyme sprigs off the stems. Drain the cannellini beans in a sieve in the sink and then rinse under cold running water – you'll need 240g.
Put the beans in a small roasting tin and scatter over the leeks, fennel and potatoes. Stir the balsamic vinegar and garlic into the stock and then pour into the tin. Sprinkle over the thyme sprigs.
Drizzle the oil over the traybake and season with a little salt, if using and pepper to taste. Roast for 30 minutes, then arrange the cherry tomatoes and cook for another 10 minutes until everything is piping hot and the vegetables are nicely caramelized (all the stock should be evaporated).
Divide the leek and bean traybake with cherry tomatoes between plates and scatter over the reserved fennel fronds to serve.