This popular dish is a classic. Serve with garlic bread for an extra tasty treat.
Lasagne with Crispy Salad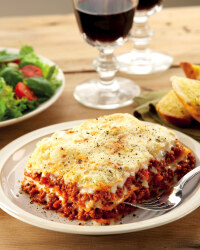 Recipe Information
Ingredients
For the bolognese sauce:
400g lean mince beef
2 400g cans chopped tomatoes
3 courgettes, grated
300g spinach, shredded
200g mushrooms, finely sliced
1 onion, thinly sliced
4 gloves of garlic, crushed
1 tsp mixed herbs
1 tbsp olive oil
Salt and pepper
For the white sauce and salad:
125g light mozzarella ball, sliced
10 lasagne sheets (wholemeal if possible)
800ml low fat milk
50g low fat grated mozzarella
20g butter
20g flour
spray oil
120g bag of rocket & 150g bag of mixed leaves in one bowl
Method
Pre-heat oven to 180ºC.
Heat oil in a deep non-stick saucepan.
Add the onions and cook for 3 minutes until soft.
Add the garlic and stir.
Add the mince and cook until browned.
Add the courgettes, spinach, and mushrooms and stir.
Add the tomatoes and stir.
Add the herbs and salt and pepper and simmer for 20 minutes.
Meanwhile prepare the white sauce.
Melt the butter in a non-stick saucepan.
Add flour, and then milk stirring all the time.
Cook over a low heat and add the grated mozzarella cheese when removing from heat.
Next spray some oil in the base of a large ovenproof dish.
Cover the base of the dish with a layer of white sauce. Next add a layer of lasagne sheets.
Next add some more white sauce followed by a layer of meat sauce.
Add some more white sauce and more lasagne sheets.
Add the last of the white sauce and finish off with the remaining meat sauce.
Top with the sliced mozzarella cheese and place in the oven to cook for 45 minutes.
Serve with crispy rocket and mixed leaf salad.