This perfect combination of lamb and vegetables makes for a delicious soup.
Lamb, Bean and Tomato Soup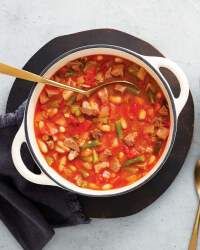 Recipe Information
Ingredients
200g leftover Lamb (shoulder or leg, cut into chunks)
400g Chopped Tomatoes
400g Cannellini Beans
500ml Chicken Stock
1 tbsp Olive Oil
2 stalks of Celery
1 Onion
1 clove of Garlic
100g Green Beans
1 tbsp freshly chopped Parsley (to serve)
40g Parmigiano Reggiano, grated (to serve)
Method
Roughly chop the celery, onion and garlic.
Heat the oil in large saucepan and add the chopped ingredients. Cook for 10 minutes until softened.
Add the stock, chopped tomatoes and lamb and leave to simmer for 15 minutes.
Trim the green beans and add to the soup with the cannellini beans.
Leave to simmer for another 10 minutes.
Sprinkle over the chopped parsley and Parmigiano to serve.