You can't go wrong with a hearty Sunday roast.
Irish Sunday Roast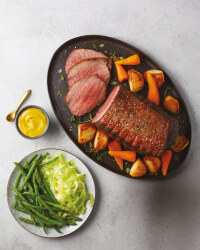 Recipe Information
Ingredients
1tbs plain flour
1tbs butter
900g Irish round steak roasting joint
300g shallots, peeled
600g potatoes, peeled and cut into wedges
400g carrots, peeled and sliced
8 cloves garlic, peeled
Fresh thyme or rosemary
½ tsp salt
Freshly ground black pepper
500ml beef stock
Method
Preheat oven to 180ºC.
Spray some oil into a heavy casserole dish over a high heat on your stove top.
In the casserole dish brown the beef joint on all sides.
Add half the beef stock along with the herbs, salt and pepper.
Cover and place in the oven for 30 minutes.
After 30 minutes remove from the oven and add the onions, potatoes and carrots to the dish.
Replace in the oven and cook for a further 30 minutes.
While the beef cooks, melt the butter in a pan over a medium heat.
Add the flour and cook gently for one minute allowing the flour to absorb the butter.
Gradually add the remaining beef stock, whisking all the time to create a smooth creamy sauce.
Serve with the vegetables and your sliced roast beef.