Slow roast Irish lamb that's sure to tickle your taste buds.
Irish Lamb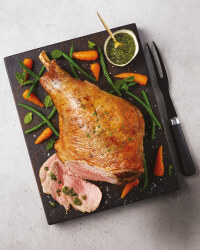 Recipe Information
Ingredients
Whole Leg of Lamb, approx. 2kg
200g Fine Cut Marmalade
1 Chicken Stock Cube
20ml Lemon Juice
200ml Boiling Water
Sprigs of Fresh Rosemary
Sea Salt and White Pepper
Method
Pre-heat the oven to 200°C/400°F/Gas Mark 6.
Line a large roasting tin with some tin foil.
Put in the lamb, make about 8 deep cuts into the lamb, and put some sprigs of rosemary into the cuts.
Dissolve the stock cube in the boiling water, add the marmalade and the lemon juice and mix well, season with a little salt and pepper.
Pour over the lamb, then roast in the oven for about 2 hours (depending on how well you want your lamb cooked) basting as you cook.
Allow the lamb to rest, covered, for about 20 minutes before carving.