Slow cooked, succulent beef in a classic Irish stew, packed with vegetables.
Irish Beef Stew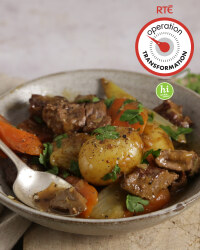 Recipe Information
Ingredients
1 Onion
2 x Celery Sticks
3 x Carrots
225g Stewing Steak Pieces
2 x tbsp Rapeseed Oil (30g)
1 Bay Leaf
1 fresh Thyme Sprig
1 tbsp Plain Flour (15g)
500ml Beef Stock
1 tsp Worcestershire Sauce (5g)
250g Baby New Potatoes
Salt (optional) and freshly ground black Pepper
Garnish
Small handful fresh Parsley leaves (5g)
Method
Preheat the oven to 160°C/325°F. Peel and finely chop the onion. Trim and slice the celery. Peel and slice the carrots.
Heat a heavy-based casserole with a lid over a medium to high heat. Dry any excess liquid from the beef.
Add half the oil and sauté the meat, leaving plenty of room around each piece to ensure that they brown nicely and don't end up stewing. Transfer to a plate.
Add the rest of the oil to the pan and then add the vegetables, bay leaf and thyme leaves.
Season with a little salt (optional) and pepper and sauté for about 5 minutes until just beginning to caramelise and pick up a little colour.
Sprinkle over the flour and cook for another minute or two, stirring.
Gradually pour in the stock, stirring until smooth and scraping the bottom of the casserole to remove any sediment.
Return the beef to the pan with the Worcestershire sauce and potatoes, stirring to combine.
Bring to a simmer, then cover with a lid and then transfer to the oven for 1 hour or until the beef and potatoes are tender.
Tear over the parsley leaves to serve.