Alternative spaghetti recipe for a honey and ginger chicken with spiralled carrots.
Honey & Ginger Chicken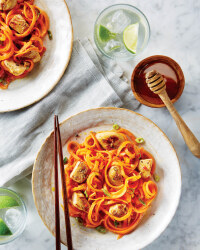 Recipe Information
Ingredients
2 large Carrots, trimmed and peeled
3 Chicken Breasts, cut into bite-sized pieces
2 tbsp Specially Selected Rapeseed Oil
1 plump Garlic Clove, crushed
2 tbsp Light Soy Sauce
1 tbsp Cream Sherry
1 tbsp Runny Honey
Thumb-sized piece Ginger, peeled and grated
1 Red Chilli, seeded and very thinly sliced
2 Spring Onions, trimmed and sliced
Method
Spiralise the carrots using the 'thin spiral cone' and set aside.
Mix together the garlic, soy, sherry, honey, ginger and chilli. Heat the oil in a wok or large frying pan and cook the chicken over a medium heat, for approx. 6 minutes, until evenly browned and cooked through.
Add the sauce and the spiralised carrots to the chicken and continue to stir fry for another 2-3 minutes.
Scatter over the spring onions and serve.