A classic, traditional breakfast with a surprising, fruity twist.
Chef's Tip
Fromage frais can be substituted instead of yogurt. This can be made up and eaten over a couple of days if well chilled. Any soft or frozen soft fruit can be added. Any cereal can be added to give extra crunch.
Honey, Blueberry and Yogurt Porridge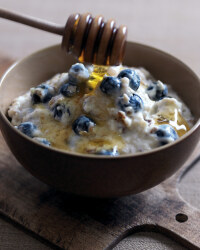 Recipe Information
Ingredients
3 × 39g Golden Syrup Instant oat sachets
600ml fresh semi-skimmed milk
500g natural yogurt
150g fresh blueberries
150g Harvest Morn Swiss style muesli
4 tbsp Squeezy honey
Juice of 1 large lime
Method
Place the three sachets of oats and the milk together into a microwave safe bowl, and mix well.
Pop into the microwave and cook as per the packet instructions.
Once cooked, stir well and leave to cool and thicken.
Once cooled, really mix well to break up, this will take a couple of minutes.
Next, add the natural yogurt, blueberries and muesli and carefully mix together.
Finally, add the honey and lime juice and again mix well.
Spoon into bowls and serve with extra honey.