A sweet carrot and swede mash and rich sauce accompany our succulent sirloin steaks, cooked to perfection.
Highland Sirloin Steaks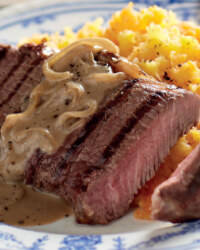 Recipe Information
Ingredients
4 x British Specially Selected Dry Aged 6oz Sirloin Steaks
1 x Swede
500g Chantenay Carrots
1 x Onion
1 x Quixo Beef Stock Cube
60ml Double Cream
70g Salted Butter
100ml Semi Skimmed Milk
1 x flat teaspoon Bramwells English Mustard
30ml Napoleon Brandy
1 x dsp The Pantry Lemon Juice
A little Solesta Sunflower Oil
Salt and Black Pepper
50ml Boling Water
Method
Peel the swede and carrots and chop into medium chunks- put in a large saucepan, cover with boiling water, season with some salt, bring to the boil, cover and simmer for 30 minutes until tender.
Meanwhile, peel and chop the onion finely, put in a small saucepan with a little sunflower oil, cook on a low light till the onion is soft but not coloured.
Add the mustard and the brandy - dissolve the stock cube in the boiling water and add to the onion, pour in the cream and the lemon juice and some ground black pepper - simmer for 5 minutes.
Drain the cooked vegetables and mash along with the butter and milk, keep warm while you cook the steaks.
Cook the steaks under the grill or in a griddle pan to your liking.
Serve on a pile of the mashed vegetables and topped with onion mustard brandy cream sauce.