Enjoy a beautifully cooked pork tenderloin with a Thyme, basil and Rosemary rub.
Herb Crusted Pork Tenderloin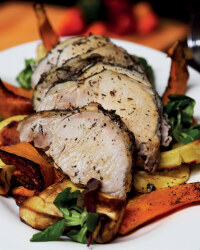 Recipe Information
Ingredients
500g Pork Steak
500g Potatoes, peeled and chopped in half
2 Carrots, peeled and chopped
2 Parsnips, peeled and chopped
1 Butternut Squash, peeled, seeds removed and chopped
2 cloves Garlic, peeled and finely chopped
2 tsp Dried Thyme
2 tbsp Fresh Rosemary
2 tsp Dried Basil
2 tsp Olive Oil
Method
Pre-heat the oven to 200°C/400°F Fan/Gas Mark 6.
Add potatoes to a large pot covered with cold water.
Bring to the boil and then simmer for 10-15 minutes until tender and drain.
Mix herbs with garlic in a bowl and rub half of it all over the pork steak, so that it is covered.
Keeping remainder for vegetables.
Place 1 tbsp of oil in an ovenproof dish with the pork and cover.
Cover with aluminium foil and cook for 1 hour until cooked.
Place 2 tsp of olive oil in ovenproof dish and add in potatoes.
Drizzle potatoes with 1 tsp of oil and put in the oven for 45 minutes.
Place the chopped vegetables on a baking tray with the remaining oil and remaining herbs.
Place in the oven and cook for 30-45 minutes until tender.
Remove the pork from the oven and leave to rest for 10-15 minutes.
Serve the pork with roasted vegetables and potatoes.