Ham & Cheese Croissants with Mustard Glaze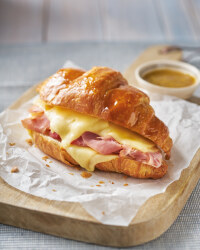 Recipe Information
Ingredients
1 x 4 pack Croissants
120g pack Honey Roast Ham
8 slices Emmental Cheese
25g Dijon Mustard
20g set Honey
5g Soft Brown Sugar
Method
Cut the croissants in half lengthways
Put a slice of cheese on the base of each croissant. Divide the ham between the croissants.
Top this with another slice of cheese. Put the tops on the cheese.
Mix together the mustard, honey and brown sugar. Brush this over the tops of the croissants.
Bake in the oven for 10 minutes, until golden.