Veggie heaven! Halloumi, carrots, grilled peppers and salad on a brioche bun.
Halloumi Burger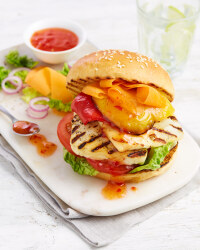 Recipe Information
Ingredients
550g Halloumi
1 large Carrot
1 tbsp Apple Cider Vinegar
1 tsp Caster Sugar
Salt
Pepper
Olive Oil
1 Baby Gem Lettuce
1 Salad Tomato
120g Grilled Peppers
4 tbsp Sweet Chilli Sauce
4 Specially Selected Seeded Brioche Burger Buns
Method
Peel the carrot then slice into ribbons using a vegetable peeler.
Place the carrot into a mixing bowl along with the cider vinegar, salt and sugar.
Marinade for 10 minutes, then strain off the liquid.
Quarter the lettuce, pull apart the leaves, wash and dry.
Slice the tomato.
Drain and slice the halloumi, drizzle with oil and season with salt and pepper.
Cook the halloumi for 3-4 minutes each side on a barbecue or griddle pan.
Split the buns and warm through on the barbecue or griddle pan for just a few seconds.
To build
Place a couple of lettuce leaves on the base of each bun.
Top with a slice of tomato.
Add the halloumi.
Divide the grilled peppers between the 4 burgers.
Drizzle over sweet chilli sauce.
Divide the pickled carrot between the 4 burgers.
Place the lid onto each burger and serve.