Halloumi & Asparagus Kebabs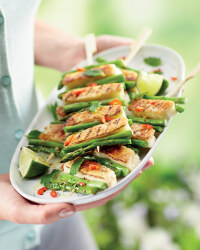 Recipe Information
Ingredients
2 x Packs Halloumi
1 x Pack Asparagus Tips
1 x Lime
3 tbsp Olive Oil
½ Red Chilli
Method
Soak some kebab skewers in water (to prevent burning).
Drain the packs of halloumi then slice into finger sized pieces.
Take the pack of asparagus tips and cut them in half.
Carefully thread the cheese and asparagus onto the skewers.
Whisk together 1 tbsp lime juice and the olive oil.
Thinly slice the chilli and add to the oil. Season to taste.
Brush this over the kebabs and BBQ or grill, turning and basting occasionally until golden brown.