One-pan smoked haddock and kale kedgeree recipe.
Haddock & Kale Kedgeree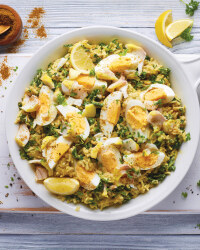 Recipe Information
Ingredients
250g Smoked Haddock
200g Basmati Rice
4 Eggs
25g Butter
1 tbsp Rapeseed Oil
1 small Onion, finely chopped
100g Kale, washed
2 tsp Curry Powder
3 tbsp Double Cream
2 tbsp Fresh Parsley, chopped
2 tsp Lemon Juice
Freshly Ground Salt and Black Pepper
Method
Place the haddock in a pan and cover with 500ml water and a little seasoning.
Bring to a gentle simmer and cook for around 8 minutes until it easily flakes.
Remove the fish with a slotted spoon, draining well and set aside.
Stir the rice into the cooking liquor, cover with a lid and bring to the boil.
Reduce the heat and simmer gently for 10 minutes.
Turn off the heat and leave for a further 5 minutes so the rice absorbs all the liquid.
While the rice is cooking hard boil the eggs, then cool a little under running water and shell.
Melt the butter and oil in a large pan and sauté the onion and kale until tender.
Add the curry powder and cook for a couple more minutes.
Add the cooked rice, cream, parsley and seasoning.
Remove the skin and flake the fish into the rice, add the lemon juice and cook for a couple of minutes.
Cut the eggs into quarters and add to the pan.
Cover with a lid and heat gently for 2-3 minutes until the eggs are warm.