White chocolate sponge cake with a sweet and sticky grape jam topping.
Grape and White Chocolate Tray Cake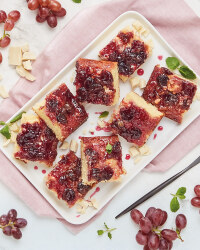 Recipe Information
Ingredients
Grape Jam:
300g Red Grapes
100g Caster Sugar
1 Lemon Zest and Juice
Cake:
2 Medium Eggs
130g Self Raising Flour
130g Caster Sugar
130g Butter (softened)
2 tbsp. Milk
1 tsp. Baking Powder
1 tsp. Vanilla Extract
100g White Chocolate (cut into small chunks)
30cm x 20cm baking tin/tray (greased and lined)
Method
Place the grapes, caster sugar, lemon juice and zest into a saucepan and cook on a medium heat for 20-25 minutes until it has reduced to a jam-like consistency.
Pour the jam into the base of the lined baking tin and smooth into an even layer.
Pre-heat the oven to 190C/170C Fan/Gas 5.
Use an electric hand mixer to beat all of the ingredients for the cake (except the chocolate) until smooth and combined - this should only take 1-2 minutes.
Next stir the chocolate chunks into the cake mix.
Top the grape jam with the cake batter and bake for 20-25 minutes.
To check the cake is cooked insert a cocktail stick into the centre of the cake and it should come out clean.
While the cake is still warm turn out of the tin so the grape jam is the top of the cake and leave to cool.
Cut into 8 squares and serve.