This sweet and indulgent dessert is perfect for any occasion.
Gnocchetti of Cocoa & Vanilla Sauce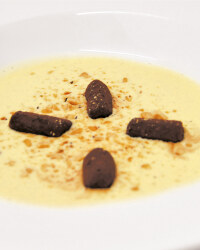 Recipe Information
Ingredients
For the gnochetti
225g 70% Chocolate, chopped into pieces
150ml Cream
1 tbsp Butter
100g Cocoa Powder
For the sauce
250ml Cream
1 tsp Vanilla Extract
4 Egg Yolks
70g Caster Sugar
Method
To make your gnocchetti
In a saucepan heat the cream over a medium heat.
Add in the chocolate and stir until melted. Then add in the butter.
Leave the chocolate to set and then place into a piping bag and pipe into 2cm long sausage shapes.
Put the cocoa in a shallow dish.
Roll the gnocchetti in cocoa powder.
To make the vanilla sauce
Pour the cream and vanilla into a saucepan and bring to the boil. Turn off the heat.
Place the egg yolks and caster sugar into a bowl and whisk until pale and creamy.
Pour a dash of the hot cream into the egg mixture and whisk to combine, then slowly pour in the rest of the cream, whisking all the while.
Pour the mixture back into the saucepan and bring to a gentle simmer. Stirring frequently, cook for 3-4 minutes, or until the mixture is just thickened (but not as thick as English custard).
Serve the gnocchetti in a shallow bowl with the vanilla sauce poured over it.