All of your favourite things in one delightful Gingerbread Cheesecake.
Gingerbread cheesecake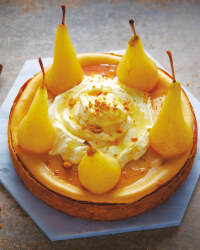 Recipe Information
Ingredients
Cheesecake
200g Gingernut Biscuits
75g Unsalted Butter, melted
675g Cream Cheese
250ml Double Cream (plus 200ml to serve)
125g Brown Sugar
1 tsp Vanilla Extract
3 Medium Eggs
3 tbsp Plain Flour
1 tbsp Ground Ginger
1 tsp Ground Cinnamon
2 tbsp Caster Sugar
Poached Pears
5 Pears, ripe and peeled
75ml Maple Syrup (plus extra for serving)
1 tsp Vanilla Extract
300ml Water
1 tsp Ground Cinnamon
23cm/9in Loose Bottom Cake Tin
Greaseproof Paper
Method
Pre-heat the oven to 180°C/350°F/Gas Mark 4.
Line the cake tin with greaseproof paper.
Blitz the biscuits into crumbs with the melted butter.
Press into the base of the cake tin and slightly up the sides.
Whisk the cream cheese until fluffy. Add the cream, sugar, cinnamon, ginger and vanilla and whisk again until fully combined.
Add the eggs one at a time, stirring and then stir in the flour.
Pour over the crumb base and bake for 45-50 minutes until set, but a slight wobble remains.
In the meantime, heat the water with the maple syrup, vanilla and cinnamon.
Add the pears and cover, poaching for approx. 15-20 minutes.
Whip the extra 200ml of double cream with the caster sugar.
Remove the cheesecake from the oven and, when cooled, pile the whipped cream on to the centre of the cake and place the pears around the edge.
Serve the cheesecake drizzled with maple syrup.