Enjoy this healthy dinner recipe taken from RTE's Operation Transformation
Fish Pie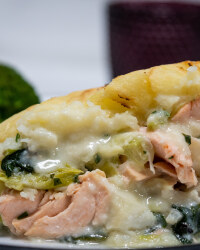 Recipe Information
Ingredients
2 leeks
2 celery sticks
1 head broccoli (you need 400g florets)
500g potatoes
600g mixed boneless fish fillets (use any firm white fish or salmon)
330ml low fat milk
1 tsp rapeseed oil (5g)
200g spinach leaves (any thick stalks removed)
2 tbsp softened butter (30g)
2 tbsp plain flour (30g)
small bunch flat-leaf parsley (7g)
small bunch chives (7g)
sea salt and freshly ground black pepper
Method
Preheat the oven to 180C / 350F / gas mark 4. Trim the leeks and cut into think slices. Trim and dice the celery. Break the broccoli into florets – you'll need 400g in total.
Peel the potatoes and cut into chunks. Place in a saucepan fitted with a petal steamer and cook over a medium heat for 15-20 minutes until tender. Remove from the heat, then put a clean tea towel on top and leave for a few minutes to dry out with the lid on.
Place the fish fillets in a frying pan with 300ml of the milk over a low heat and bring to a gentle simmer. Cook for 3 minutes, then turn off the heat and leave to cool down. The fish will continue to cook.
Remove the fish from the milk and flake into large chunks straight into a small ovenproof dish, discarding the skin and any stray bones. Pour the milk into a jug and set aside until needed.
Wipe out the frying pan and heat with the oil over a medium heat. Add the spinach and allow to wilt down, stirring with a wooden spoon. Tip into a colander to squeeze out any excess moisture and then tuck small balls of it around the fish in the ovenproof dish.
Wipe out the frying pan again and place over a medium to high heat. Add half the butter and swirl up the sides, then tip in the leeks and celery. Sauté for 2-3 minutes until tender. Stir in the flour and cook for 1 minute. Remove from the heat and gradually pour in the reserved milk, whisking until smooth. Season lightly with salt, if using and pepper to taste and simmer for another 2-3 minutes until slightly reduced and thickened.
Remove the leaves from the parsley and finely chop with the chives, then stir into the sauce and use to cover the fish and spinach. Set aside to allow a skin to form as this will help smooth over the mashed potatoes evenly.
Mash the cooked potatoes and add the rest of the butter and the remaining tablespoons of milk to give a smooth mash. Spread over the fish filling and bake in the oven for 25-30 minutes until piping hot and golden brown.
Place the broccoli in a petal steamer set inside a saucepan and cook for 2-3 minutes until tender. Divide the fish pie amongst plates to serve with the broccoli.