Fish & Chips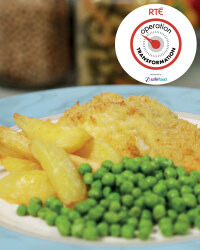 Recipe Information
Ingredients
250g Cod Fillets
250g Potatoes, peeled
1 Egg, beaten
150g Fresh/Frozen Peas
75g Breadcrumbs
Food Staples:
3 tsp Olive Oil
25g Plain Flour
Method
Pre-heat oven to 200oC/400oF/Gas Mark 6.
Parboil potatoes for 10 minutes. Remove from water and cut into chips when cool.
Toss the chips in 2 teaspoons of olive oil, place on baking tray and cook for 20-30 minutes until golden.
Set up 3 plates, the first with flour, the second with the beaten egg and the third with the breadcrumbs.
Dip the cod fillets into the flour, then into the egg and then cover them in breadcrumbs.
Spread 1 teaspoon of olive oil over the baking tray, lay the fish on the tray and cook in the oven for 15-20 minutes, turning over halfway through
Place peas in pot of boiling water and simmer for 2-3 minutes.
Take the chips out of the oven and serve with the fish fillets and peas.