Enjoy this hearty pub favourite from the comfort of your own home.
Fish & Chips with Tartar Sauce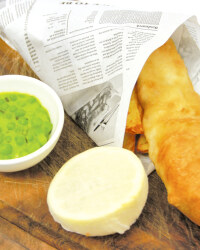 Recipe Information
Ingredients
4 fillets of Cod
300g Flour
1 bottle of Beer
7g/1 sachet of Fast Action Dried Yeast
4 large Rooster Potatoes
1 of jar Mayonnaise
10g Flat Leaf Parsley, chopped
25g Capers, chopped
25g Gherkins, finely chopped
1 Lemon, juiced
1 small bag of Frozen Peas, defrosting
50g Butter
Small bunch of Fresh Mint
1-2 litres Vegetable Oil for frying
Method
Pre-heat the oven to 100°C/80°C Fan/Gas Mark ¼.
Peel your potatoes and cut into chips. Put in a pot of cold water, bring to the boil and parboil for 10-15 minutes or until slightly tender. Drain and leave to cool.
To make the batter, put 200g of flour, yeast and beer into a large bowl and whisk until all the lumps are gone. If the mixture is too thick, just add a little water, or if the mixture is too wet, add a little more flour. Cover with a towel and leave to prove.
For the tartar sauce
Mix the mayonnaise, capers, gherkins and parsley together, then season with a few drops of lemon juice to taste.
To fry the fish
Heat the oil in a deep fat fryer.
Put the remaining flour in a shallow dish and season with salt.
Make sure your oil is hot and ready to go and then batter your fish.
Dip your cod into the flour to coat it, shake off any excess flour and then dip the cod in the batter. Then carefully lower the cod into the hot oil and fry until golden on the outside and cooked on the inside. This will differ depending on the size and thickness of the fillets. Put the fish in the oven to keep warm.
Then fry the chips in the hot oil until golden (2-5 minutes) and season with plenty of salt.
In a pan, melt some butter over a medium to hot heat. Add the peas, cook for a few minutes until they are cooked through and add the mint at the last moment.