The perfect recipe if you're bored of your mince pies. These heavenly tarts are a yummy Christmas treat.
Fig & Morello Cherry Tarts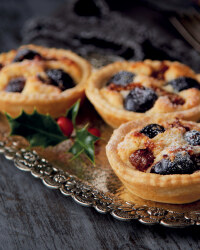 Recipe Information
Ingredients
1 jar Morello Cherries
1 jar Kalamata Fresh Figs
1 packet of Shortcrust Ready Rolled Pastry
150g Caster Sugar
150g Self Raising Flour
150g Butter
150g Ground Almonds
2 Medium Free Range Eggs
1tsp Almond Extract
Method
Heat the oven to 180°C/300°F/Gas Mark 4.
Roll out the pastry and cut circles to fit the bun tin.
Mix the flour, sugar, butter, ground almonds, eggs and almond extract together until smooth.
Lay pastry circles in the tin and push down to fit the tin.
Next, add 1-2 teaspoons of mixture into each one.
Chop the cherries and figs into bite-size pieces, and put a few of each onto each tart.
Place in the oven for 35-40 minutes, or until golden.