Eyeball Cocktail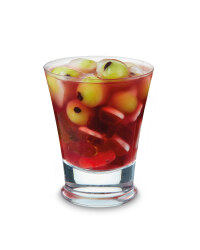 Recipe Information
Ingredients
12 seedless green grapes
12 currants or raisins
1 litre Del Rivo cranberry & pomegranate juice
125g packet Dominion gummy mix
Method
1. To make the ice cubes – with a cocktail stick make the hole where the grape was attached to the stalk a little bigger.
2. Press in a currant or raisin.
3. Put one of these eyes into an ice cube square in a tray, pour water around and freeze – make more if you want your drinks colder and scarier!

4. Divide the gummys between four glasses.

5. Pour over the cranberry and pomegranate juice.

6. Then serve topped with the eye ball ice cubes.