Indulge yourself with this luxuriously decadent chocolate cake recipe.
Easy Triple Chocolate Cake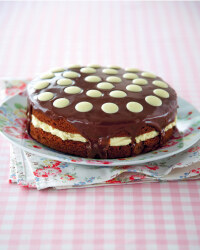 Recipe Information
Ingredients
2 x 20cm/8" Sandwich tins - lined
100g unsalted butter
100g The Pantry caster sugar
100g The Pantry plain flour
1 x block 100g Dairyfine dark chocolate
1 x block 100g Dairyfine milk chocolate
2 x large eggs, separated
1 x 284ml carton Cowbelle double cream
1 x packet Dairyfine white chocolate buttons
Method
Preheat the oven to 180°C/350°F/Gas Mark 4.
Gently melt the butter and dark chocolate in a saucepan.
In a bowl beat the egg whites with ½ teaspoon caster sugar and a pinch of salt until they form peaks.
In another bowl beat the egg yolks with the sugar until pale, then fold in the flour.
Mix in the chocolate mixture, and then fold in the egg whites.
Divide this mixture between the two tins and bake for about 10 mins until set.
Allow to cool while you make the icing and filling.
Put 50ml of the cream in a small bowl.
Break up the milk chocolate and add to the cream, gently melt this over a pan of boiling water.
Meanwhile whisk the remaining cream and use to sandwich the two cakes together.
When the chocolate and cream is melted, spread over the top of the cake, then decorate with the buttons.