American-style sponge cake decorated with icing sugar, lemon juice and grated chocolate.
Doughnut Cake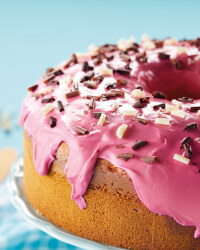 Recipe Information
Ingredients
500g Self Raising Flour
500g Caster Sugar
250ml Sour Cream
60 ml Milk
100g Unsalted Butter
1tsp Vanilla Extract
1tsp Baking Powder
3 Eggs
For the topping:
375g Icing Sugar
1tsp Lemon Juice
2tsp Water
Dash of Pink Food Colouring
Colourful Sprinkles
Extra butter and flour, to prepare the cake tin
Method
Preheat the oven to 160C/140C (fan)/gas mark 3.
Grease a 25cm round cake tin with a little butter before sprinkling with flour.
Place a 6cm round cake in the centre to create the doughnut hole. Alternatively, you can use a clean, empty food tin (from beans, peas, etc).
Whisk together the self-raising flour, caster sugar, baking powder, sour cream, milk, butter, vanilla, and eggs until a smooth batter has formed.
Transfer to the prepared cake tin and bake in the oven for 80-90 minutes, or until a skewer inserted into the sponge comes out clean.
Leave the cake to cool in its tin.
When the cake is completely cold, whisk together the icing sugar, lemon juice, water, and food colouring, adding a dash more water if the icing seems too thick.
Remove the cake from the tin and spoon the icing over the top.
Decorate with sprinkles and serve.