This delectable croissant recipe is a perfect pudding for entertaining guests. Delish.
Croissants Frits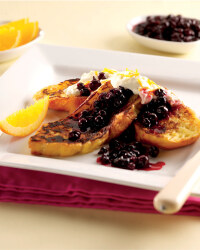 Recipe Information
Ingredients
3 Croissants, halved across the middle
2 Eggs
3 tbs Sugar
60mls Milk
1 tin of Blackcurrants
½ Orange, zested and juiced
4 tbs Crème Fraiche Butter for frying
Method
Mix eggs, milk and 1 tbs sugar together; set aside.
Drain juice off blackcurrants and add the orange juice and the remaining sugar; set aside.
Mix the orange zest into the crème fraiche; set aside.
Heat a small knob of butter in a frying pan on medium heat.
Dip the croissant slices into the egg mix and allow to soak for 30 seconds.
Fry in butter until golden brown and turn.
Fry for a further minute.
Remove from the pan and top with the blackcurrants and some orange crème fraiche.
Serve with a wedge of orange (to cleanse your palate when finished).