A simple oven baked dish using crispy new potatoes and layered with halloumi cheese.
Crispy Potato & Halloumi Bake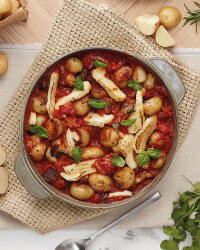 Recipe Information
Ingredients
500g New Potatoes
400g tin Chopped Tomatoes
1 large Red Onion
Juice of 1 Lemon
15g Fresh Red Chilli
15g piece Fresh Ginger, peeled
2 Garlic Cloves
1 tsp Paprika
225g block Halloumi
60ml Olive Oil
Sea Salt and Black Pepper
Method
Pre-heat the oven to 200°C/Gas Mark 6.
Peel the red onion and chop finely. Peel and mince the garlic.
In a saucepan, sauté the onion and garlic in 25ml olive oil for a few minutes.
Grate the ginger, finely chop the chilli and add to the pan, cooking for another minute.
Add the tinned tomato and the lemon juice, then season with some salt, black pepper and the paprika. Cook for 15 minutes on a low light.
In the meantime, cut the potatoes in half and cook in some boiling salted water for 10 minutes until tender, then drain well.
Heat the remaining oil in a large frying pan or wok and sauté the potatoes for about 15 minutes until crisp. Slightly crush the potatoes with the back of a spoon as you cook them.
Put the tomato sauce in a baking dish and the smashed potatoes on top.
Finally, cut the halloumi into strips and sprinkle over the top and season with some black pepper.
Place in the oven for 15 minutes, then serve.